EMMA JÄÄSKELÄINEN

Artist from Espoo, Finland
Contact: emma.jaaskelainen@gmail.com




Selected works and exhibitions:

Come Back as a Flower, HAM

https://www.hamhelsinki.fi/wp-content/uploads/2021/11/HAM_ComeBackasaFlower.pdf

Artists: Melanie Bonajo, Carola Grahn, Eva Gyldén, Evan Ifekoya, Emma Jääskeläinen, Catharina Kajander, Essi Kausalainen, Anne Koskinen, Ana Mendieta and Elina Vainio. The exhibition is curated by Elina Suoyrjö.⁣⁣

Running up that hill, PSM gallery Berlin 21.09. – 23.10.2021
Photos: Joe Clark, courtesy of PSM
supported by FRAME, SKR, Taike, Kone



Running Up That Hill...soon: Finnsheep wool, brass: 75 x 55 x 30 cm



Heavy thinker, 2021: Lappia Green marble, wool dyed with coffee
60 x 80 x 75 cm

Roll, Night Watch

Chin up, 2021: Finnsheep wool, bronze, found murano glass drop:
230 x 156 x 40 cm

Cloud Number Nine, 2021: Hermelin marble, copper, iron, steel, 45cm x 75cm x 95cm

K60, Wilhelm Hallen, Berlin, 2021
Participating galleries: alexander levy, ChertLüdde, HUA international, Klemm's, KOW, Kraupa Tuskany Zeidler, Plan B, PSM

Repose, 2021: Norwegian rose marble, Travertine Noce, Finnsheep wool: 105cm 160cm 120cm


Photo: Joe Clark, courtesy of PSM


Photo: Trevor Good, courtesy of PSM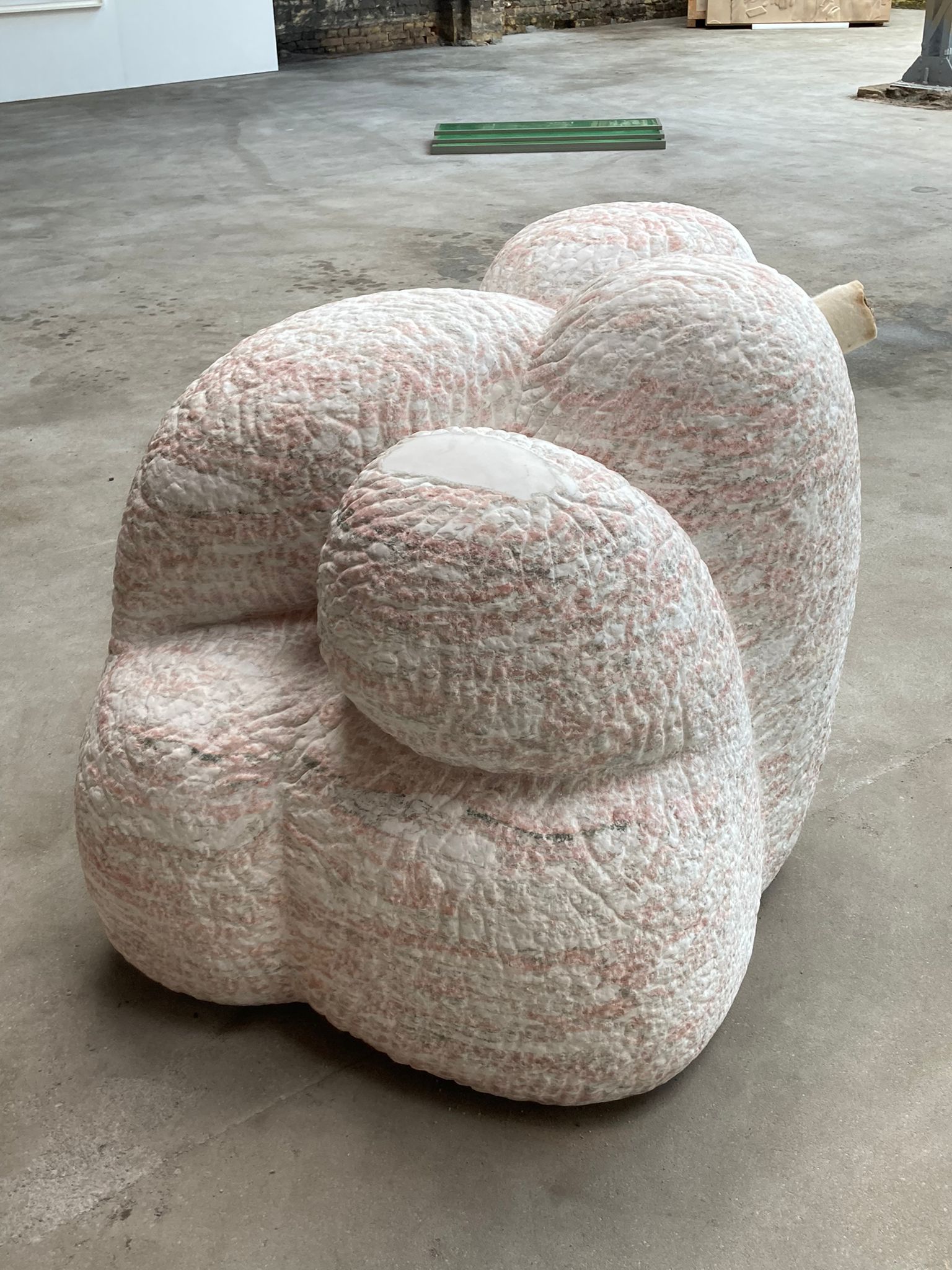 Photo: Gregor Hose, courtesy of PSM

EMERGING group show, Galerie Anhava
with Emma Luukkala, Olle Norås, Joel Slotte
Photos: Jussi Tiainen courtesy of Galerie Anhava
supported by taike, SKR


Night Watch 2021: Finnsheep Wool, marble egg, thumb of a mitten
155cm x 30cm x 10cm



Roll, 2021: Finnsheep wool,20cm x 20cm x 15cm


Night Studio, 2021: Hermelin marble, Travertine Noce, Finnsheep wool
80cm x 95cm x 60cm

Put Put public commission Adriana park Herttoniemi
photo: HAM, Hanna Kukorelli



Kiasma Commission by Kordelin 2.6.2020-10.1.2021 Kiasma museum of contemporary art, Helsinki, Finland
Emma Jääskeläinen's artwork Proper Omelette is a sculpture family whose parts spread out through Kiasma's lobby and the 2nd-floor balcony. The work consists of two stone sculptures, a textile piece, and a bronze sculpture.
The starting point for the sculptures is the human body and the experiences embedded in its memory. Physical tiredness, sweating, and aches are also part of a sculptor's work
Photos: Kansallisgalleria, Petri Virtanen

Proper Omelette



Eggs-files,2020: Bronze, collected stone eggs: 170cmx30cm




Protector and Black Pepper, 2020: Travertine Noce, found stone, wool: 270cmx110cmx90cm


Heavy pick, 2020: Norwegian Rose marble, found stones, collected stone eggs: 120cmx130cmx110cm



Sunset Sweater, 2020: wool, aluminium, New Years tin stone eggs: 500cmx50cm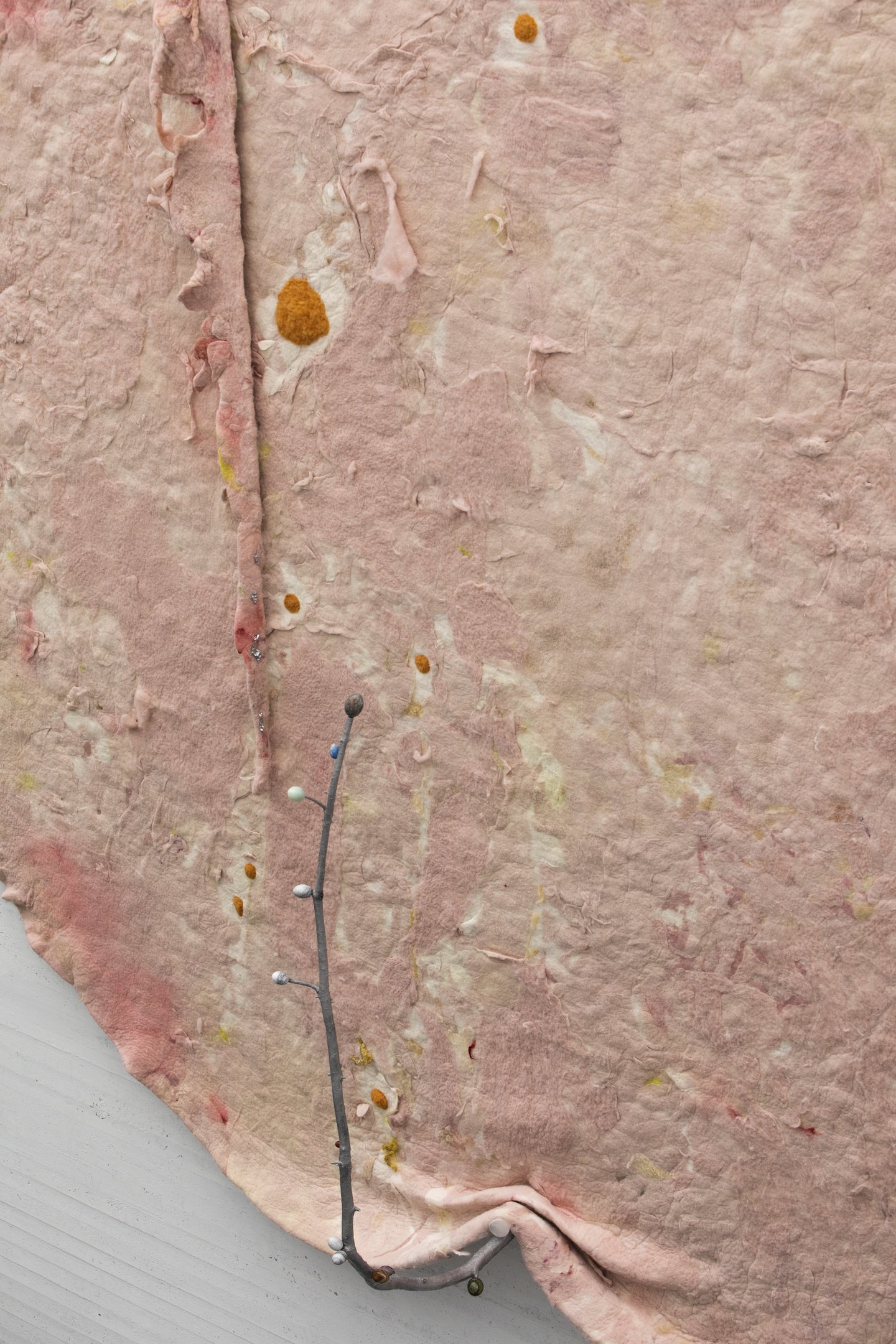 TIZZICATO: Solo show, Turku Old Townhouse gallery, 2018.



Fiddles, 2018: Marble: 30x24x27cm.



Big nose, 2018: Bronze, marble dust: 6x4x8cm.



Curse, 2018: Bronze, seashells, earring: 11x1x14cm.



Sweet Chili, 2018: Bronze, seashells, stones, chili: 34x30x2cm.



Sudoku, 2018: Marble: 30x50x55cm.



Holding a dirty thought, 2017: Norwegian rose marble, seashell:
18cm x42cm x18cm




Spagat, 2018: Norwegian Rose marble: 20cm x150cm x25cm.



Tit, little bitch sittin´, 2018: Paper mache, found nipple stone, branch: 7cm x6cm x16cm.



Nest, 2018: Found stone, hair collected from the shower, seashells: 6cm x12cm.

Sad basket, 2017: Solo show, HAM-gallery, Helsinki.



photo: Pauli Talpola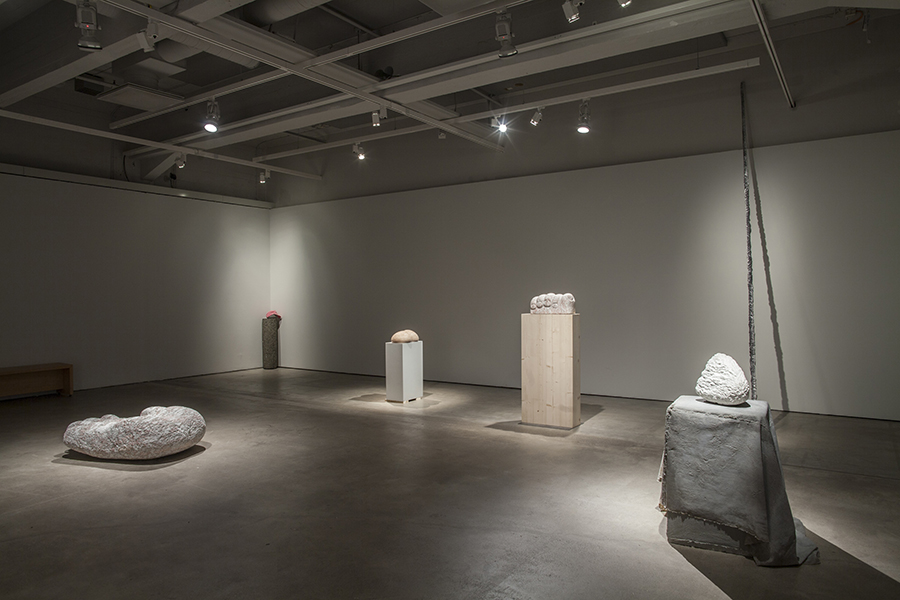 Creator (New potato & olive), 2017: Norwegian Rose marble, jadeite, found stone. 110cm x70cm x35cm.



According to shadow, 2017: Marble, granite, dolomite, hair:
6cm x 11cmx 14cm.


Pocket monument, 2016: Marble, wax, string, tape: 3cm x5cm x9cm.



Jam, 2016: Rosa Asiago limestone, wax, earplugs: 3cm x6cm x9cm.



Peaches, 2017: Norwegian Rose marble.
Night call (at the back)2017:aluminium, velvet: 4cm x4cm x300cm.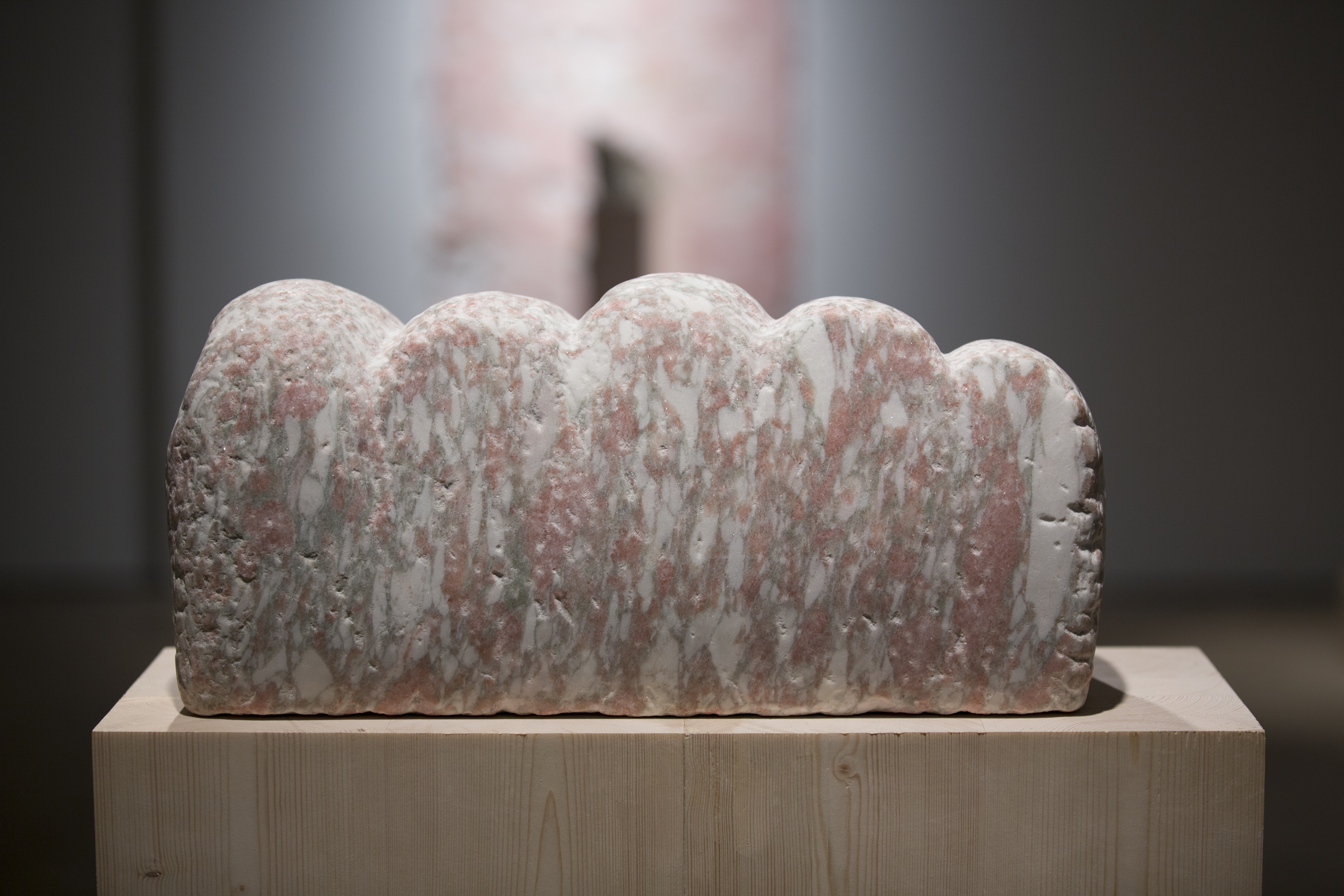 Holding a dirty thought, 2017: Norwegian Rose marble:
18cm x42cm x18cm.




Edelweiss: found stone. 8x22x18cm. 2016
Memory of stone 2016: Acrylic: 100cm x120cm. 2016



3 min. video loop on ipad: We ran out of gas. A miniature sculpture traveling on a table in a train.
Photos: HAM, MAija Toivanen


Cargo 2016: Norwegian Rose marble, coaster (pallet), string. 8x12x7cm.
photo: Petri Summanen




Grand meré, 2017: Marble, guilded yogamat: 50x80x70cm.



Where did you go?, 2016: Acrylic, sofa: 100x120x95cm.


Butts 2015-2016

Balloon, string, wallplaster, latex, pigment.




Läps!, 2015: one hour video loop. I invited people in a room to touch the sculpture. People chose how to interact with the object and for how long.




IMG_1114 from Emma Jääskeläinen on Vimeo.

Cheeks, 2016 Flow festival. The sculpture reacted to the surrounding sounds and music played in the space.



Club Guggenheim, 2015 Helsinki. A conversation piece.


Selected group shows





Rauma Triennale Balticum, 2019: Group exhibition curated by Anna Vihma & Anna-Kaisa Koski.

NABIL BOUTROS (EG/FR), EMMA JÄÄSKELÄINEN, HERTTA KIISKI, MAIJA LUUTONEN, PAULIEN OLTHETEN (NL), SARI PALOSAARI, MARTHA ROSLER (US), JAAN TOOMIK (EE) ja ELINA VAINIO.

https://www.raumatriennale.fi



Head and Shoulders, 2018: group exhibition, Exhibition Laboratory, Helsinki. Artists: Dylan Ray Arnold & Ocèane Bruel, Lasse Juuti & Emma Jääskeläinen, Iiris Kaarlehto & Inka Kynkäänniemi

Works of H&S exhibition in collaboration with Lasse Juuti

Head & Shoulders brings together works from three collaborative practices. The exhibition is an invitation to the shared nature of living and leaving. We are at home, at your place, the waiting room, the port or beyond, saturated with stories, kind of ruins. Couches are common words. We can store our affects in and share the cloud above. While we still have hair, let's use our hands. Head & Shoulders nourishes, takes care, heals and irritates. Working with each other encourages us to extend our intimacies towards a common ground, through frictions and excitements. A collective vision is a precarious moving composition. In Exhibition Laboratory it becomes space, forms, materials and images.

Pictures of the show: http://tzvetnik.online/portfolio_page/head-shoulders-at-exhibition-laboratory/


Kuvan Kevät 2017: Master´s degree show, University of the Arts, Helsinki.


Bob, 2017: Rosa Asiago limestone: 30x40x18cm.



Vulva made of chewing gum was added on the sculpture at random times.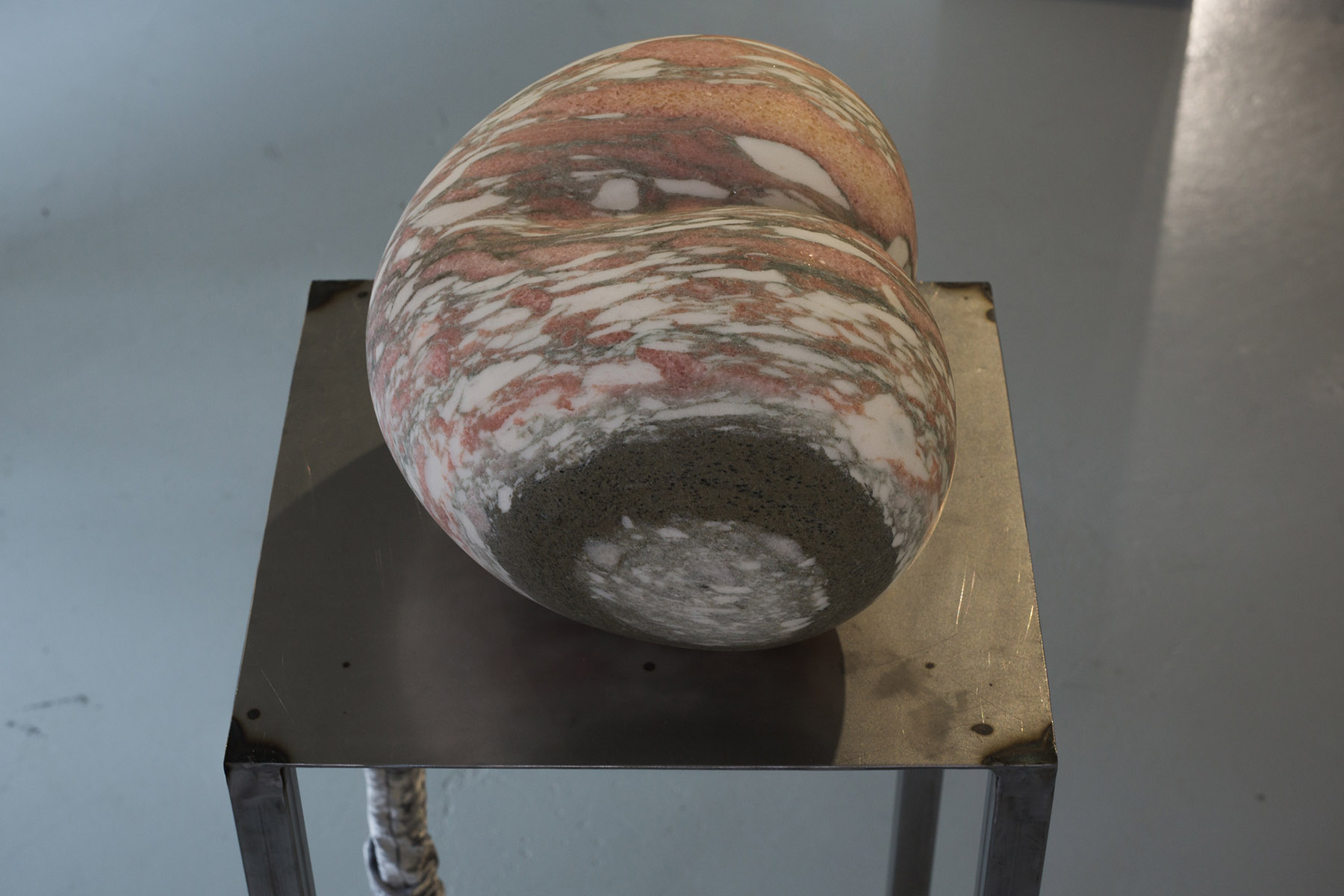 Peaches, 2017: Norwegian Rose marble.


Job, 2016: Granite, lemons, string, cap: 20x95cm.

Photos: Pauli Tapola, Petri Summanen